About 180 people attended the Butler County Democratic Party's annual fundraising gala on Saturday, hearing from local party leaders as well as State and County wide candidates.
After a welcome from Butler County Vice-Chair and Political Director Kathy Wyenandt, Nan Whaley, candidate for Governor, took the stage. Whaley emphasized her ability handling a series of traumatic situations during her term as Dayton mayor as reasons she would make a great Ohio governor.
Whaley led Dayton through the aftermath of a mass shooting killing 10 people in the Oregon shopping district of Dayton; endured and rebuilt after a series of tornadoes hit north Dayton in 2019; and implemented a program to provide daycare for children under four years old for Dayton families.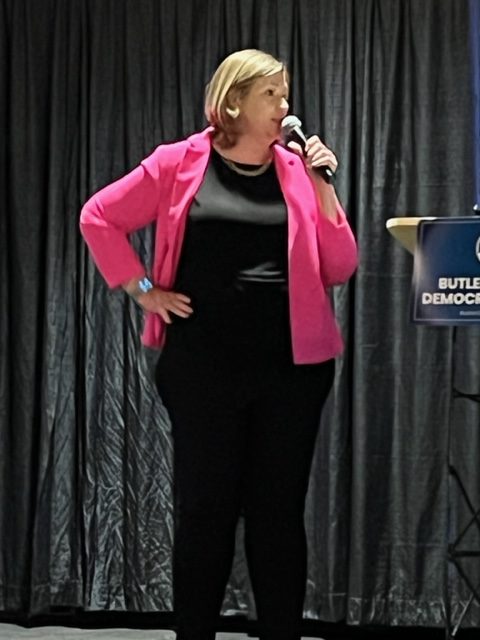 She noted that after the Oregon District shootings, Ohio Gov. Mike DeWine came to Dayton during a series of rallies and pledged that he'd "do something," to help end gun violence in Ohio. Instead, he passed a law to allow permitless gun carry.
"I'm Nan Whaley, I'm running for governor, and I intend to do something" to stop gun violence and corruption in government, she said. She and other candidates noted the HB 6 First Energy fossil fuel bailout scheme that will cost Ohio taxpayers $1 billion over the next few years.
"The FBI has called Ohio the most corrupt state in the country," she said. "Big donors plus bad ideas equals money out of our pockets."
She also noted that her goals as governor included bringing up worker wages because "one good job ought to be enough to take care of a family" in Ohio; investing in renewable energy and small businesses; and transparency and accountability in government.
Vanessa Enoch, who is challenging incumbent Warren Davidson for the 8th District U.S. House of Representative seat, said Davidson doesn't deserve another term.
"I'm here to demand change in Washington," she said, "and we can't keep demanding the people who created our problems in Washington to solve them."
Enoch introduced Chelsea Clark via phone. Clark is running for Ohio Secretary of State. "We have a golden opportunity to make this state responsive to the needs of Ohioans," she said. "We need unencumbered access to the ballot box. It's time for Ohioans to recognize who we are."
Dave Spurrier, who is running as a write-in candidate for Butler County Auditor, presented Amy Raghuraman and Ron Velotta with the Butler County Democratic Party Volunteer of the Year Awards.
Larry Mulligan, a teacher running for State Legislator from the Middletown area, said it's time for accountability in government because "every election matters, from top to bottom (state to local level). He introduced Jeff Crossman of Parma, Ohio, who is running for state Attorney General.
Crossman said Ohioans "need people to fight for us in Ohio" and if elected, he will bring accountability back to our state.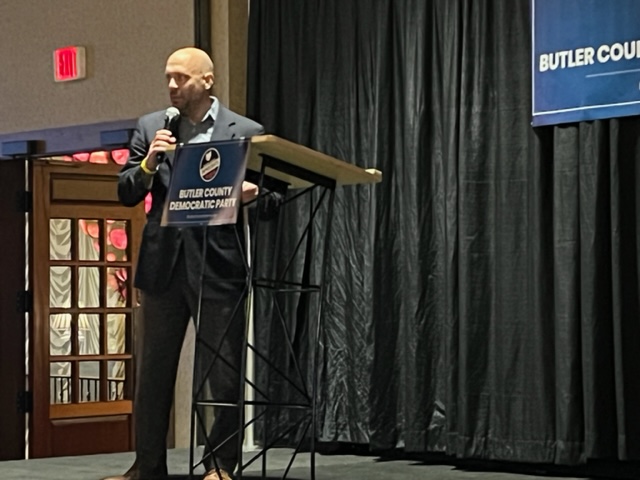 He cited the First Energy $61 million bailout bill as an example of corruption at the highest level of Ohio government. Not only was the GOP House Speaker Larry Householder indicted by the FBI for charges that include bribery, but Ohio's PUCO head, Sam Randazzo, has been accused of taking a $4 million bribe to do First Energy's bidding.
He said that under Ohio's current Attorney General, not one investigation has been implemented about HB 6. "It's time to fire Dave Yost," he said.
Chuck Horn, running for State Legislature from West Chester, introduced Scott Schertzer, who is running for State Treasurer. "I want to root out corruption in the state of Ohio," he said. He said that Ohio government invests five pension funds. "If the rate of return was so good, why is the (current treasurer) asking older people to work longer and harder?"
Sue Fuson was named Democrat of the Year by party Finance Director Britanny Maloney. Fuson has been involved in the Democratic Party for seven years and has been trying to "move the needle to grow the Democratic Party in Butler County," she said.
Sam Lawrence, an 18-year-old Miami University freshman running for State Representative, noted that Thomas Hall of Warren County considers himself the youngest state legislator. "It's time for real young person to step up and run," he said.
Lawrence introduced Taylor Sappington of Nelsonville, Ohio, who is running for State Auditor. Sappington,30, said he is excited at the prospect of "working for the people of rural Ohio and working class people," he said.
He stated that Keith Faber, the incumbent Auditor, is a member of the Ohio redistricting committee and voted multiple times to approve unfair voting districts that have been rejected by the Ohio Supreme Court.
Dan Gattermeyer introduced Judge Kathleen Dobrozsi Romans, retiring Juvenile Court Judge, and awarded her the Ann Antenan/Catherine Stoker Lifetime Achievement Award for Public Service.
Latisha Hazell, candidate for Butler County Commissioner, said she "wanted to work for the people of Butler County because they deserve better."
She also introduced Judge Terri Jamison, who is running for Ohio Supreme Court Justice.
Brian Hester, outgoing Chair of the Democratic Party, introduced John Cranley, also a candidate for Ohio Governor.
Cranley is an attorney, former mayor of Cincinnati and a co-founder of the Ohio Innocence Project. The project helps free prisoners who have been wrongfully imprisoned, many of them for many years.
Cranley said the Republican Party has been in power in Ohio for 30 years, and has shrunk the middle class over that period of time.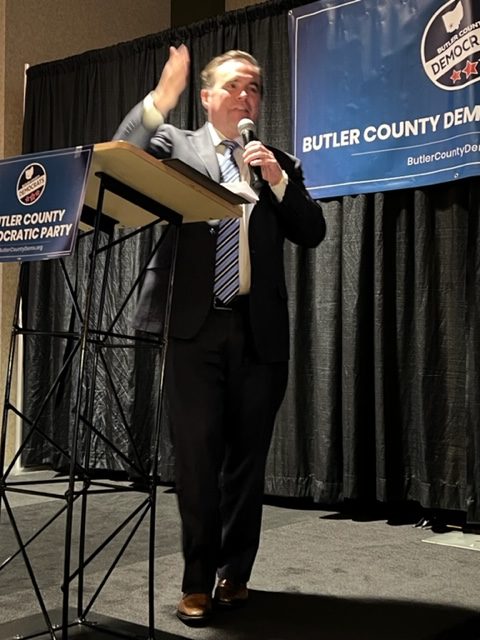 He said under his tenure as Cincinnati mayor, the city has grown twice as fast as any other Ohio city.
He said he has a strong sense of social justice and is a fighter. "When I see wrongs, I try to fight them," he said.
He listed his accomplishments as mayor as reducing shootings, arrests and incarceration rates; building the largest solar field in the city; and working for inclusion wages and clean energy, which led to Cincinnati's comeback.
He also said he wanted to create 30,000 new jobs a year by legalizing marijuana and taxing it.