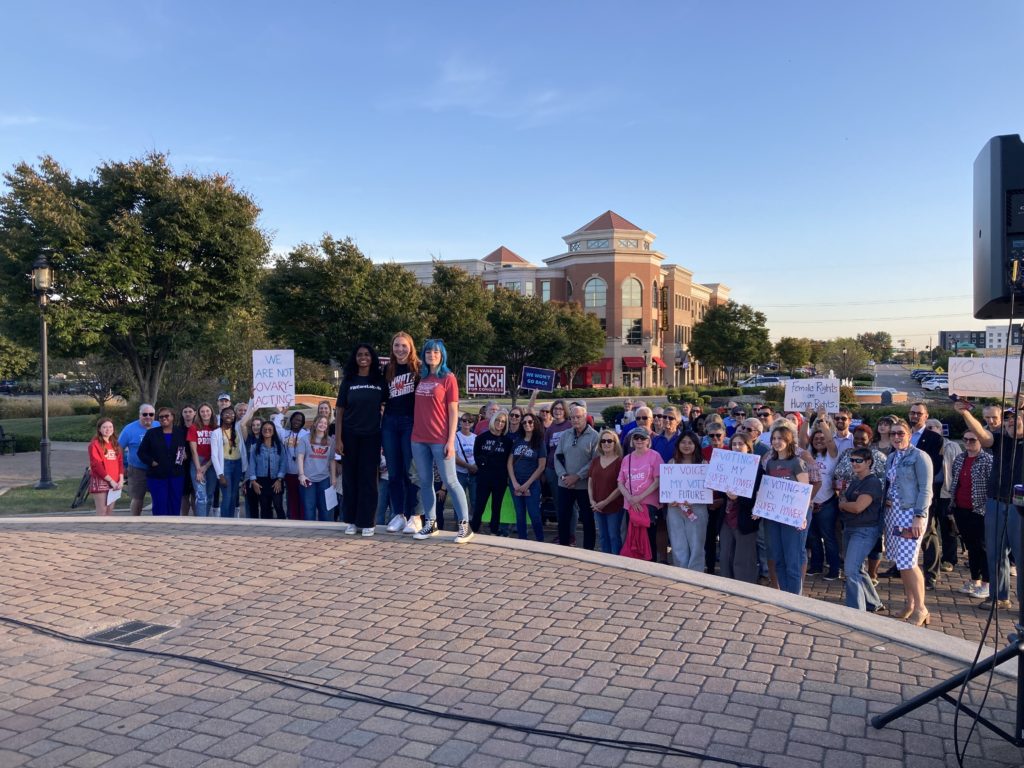 Lakota West High School students and Women Empowerment Club members Kristina Amundson, Samantha George and Anna Hare organized the event to encourage young people to register to vote in the wake of recent state legislation that bans and criminalizes abortion and restricts women's health care; allows teachers to have guns in schools with little training; and treads on the rights of LBTQ students and athletes.
"Whether or not you believe abortion is moral or not, the question should be, do you believe that women have the right over what happens to their own bodies?" asked George, a senior. "I believe we do. And that's why it is more important than ever to vote. Teens and young adults around the country feel hopeless because they believe they have no voice in the matter. But if you are 18 by November 8th, you can take part in the democratic process and make a real change."
"Democracy is a choice," said George. "By voting, we can fight injustice and choose a better future for ourselves and generations to come."
Nalleli Velasquez-Ortiz, a senior, spoke for the Inclusion, Diversity, Equity, and Action (IDEA) Club at West. She is a first-generation Hispanic-American student whose parents immigrated from Guatemala.
"Youth have been underrepresented for years because not many 17- and 18-year-olds who can register to vote actually do so," said Velasquez-Ortiz. "We need to make it our goal to register minorities to vote in order to represent the diverse country we live in. We must take an active part in the process because it's not only about people from diverse backgrounds coming to vote, but also about voting for candidates who support diversity and inclusion so that change can make its way up to the higher levels of government."
Kristina Amundson, a senior, said her generation has grown up during the era of school shootings, climate change and violent reminders of inequality.
"Alice drills have been a common practice since we can remember," said Amundson. "We knew what barricading a door meant before we knew how to multiply. This fear of what could happen makes us feel helpless and trapped. The impending effects of climate change have been broadcast to us via natural disasters in all corners of our country. Our bodily autonomy is more at risk than at any other time in our lives. When will the legislation on our bodies stop? "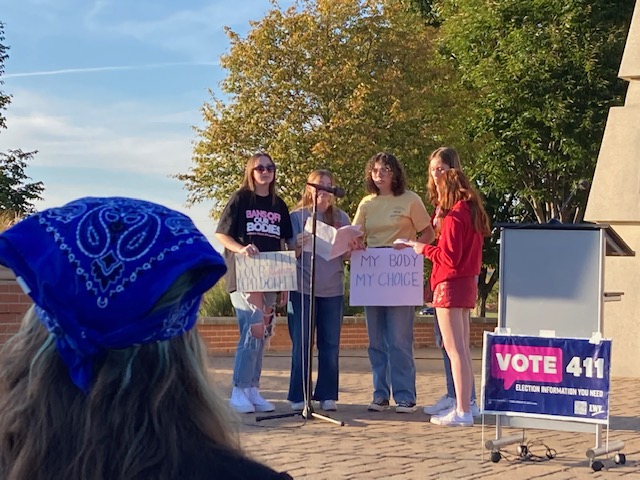 These issues upset many young people today, and increased youth voter turnout can make a difference, she added. "Only around 50 percent of 18- to 24-year-olds exercised their right to vote during the last presidential election," she said. "The percentage is much less for local elections. Additionally, the average age of Congress is 59 years old. The disconnect between our population and our elected officials is major. It's the local politicians who end up running nationally. Local and state elections are imperative for our future. We need candidates who will represent the issues that we, as a generation, have experienced firsthand. Voting is our most precious contribution to democracy; it's important to prioritize it…When will we use it?"
Anna Hare, a junior, said her mother is a strong role model in her life, especially since their family home burned in a fire last year. "She has inspired me to take action whenever I can," said Hare. "As I get closer to the day that I move from my home and out into the world, I've begun to question what I can do to feel empowered and in control over the things that happen in my life– the way my mother does. I believe something we can all do to achieve this sense of independence is to get registered to vote and have the ability to make an informed decision come election day."
Voter registration tables were on hand at the event. Lakota West High School's Women Empowerment Club hosted the event, with support from the Butler County Democratic Party; the Democratic Women's Club of Southwest Ohio; and the East Butler County League of Women Voters.